---
---
MAKE YOUR HOME A SAFER PLACE FOR YOUR LITTLE ONES! 
The Door Handle Lock helps prevent kids or pets from locking you or themselves in a room. It stops kids from getting into specific rooms like the toilets or the storerooms without adult supervision and prevents children from playing with the door and hurting their fingers. A great home accessory for child safety!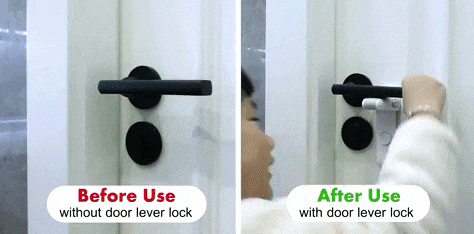 The special design of the "locking"&"unlocking" method is easy and simple for adults, but hard for children to operate. A durable safety accessory that has a sturdy hinge mechanism that flows smoothly while resisting damage or breaks. The attractive white color goes well with all decor! 
FEATURES AND BENEFITS
EASY ONE-HAND OPERATION: Got your hands full? Carrying your child in one arm? You can open this lock with just 2 fingers. 
ULTIMATE LOCK DESIGN:  Most children can't open this lock. It requires an adult to press buttons on BOTH sides of the lock and one button on the surface to open. 
SUPER EASY INSTALLATION: Install the lock directly by just peeling the 3M VHB adhesive tape and placing the lever lock on the door, no drill or tools are needed (the effect will be better after 24 hours). The 3M VHB adhesive tape with a strong viscous can be removed easily without any residual, or damage to the door.
PREMIUM MATERIAL: Made of high-quality ABS which is much more durable and strong. Cannot be easily damaged by kids which better ensures their safety.
SPECIFICATIONS
Dimensions: 6.54 x 5.83 x 2.01 inches
Weight: ‎4.2 ounces
Material: ABS
---